Services AEC.
A.E.C. Services
Allied Engineering is an ISO 9001:2008 certified Machinist and Manufacturer of Precision Machined Components in India.
A futuristic company founded with a vision to usher in the world of casting and machined parts, machined components, fabrication and machining, forgings & machining and machining and job work. And with philosophy to achieve excellence in customer service and Precision Machined components across India.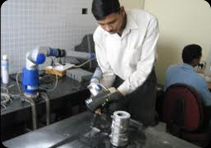 Allied Engineering Irrespective of the volume of job, Allied Engineering is committed to bring in right ingredients in right proportions; the right opportunities, complemented by the right expertise; with our highly sophisticated and modern instruments. Quality control at utmost updated technology is our forte and that leads to our ever increasing client list. In the consequent phases, the company plans to emerge as a high-quality Machinist and Manufacturer of Precision Machined components for the manufacturing world at large.